SEO Showdown: SEO Services Spam Emails
February 8th 2023
---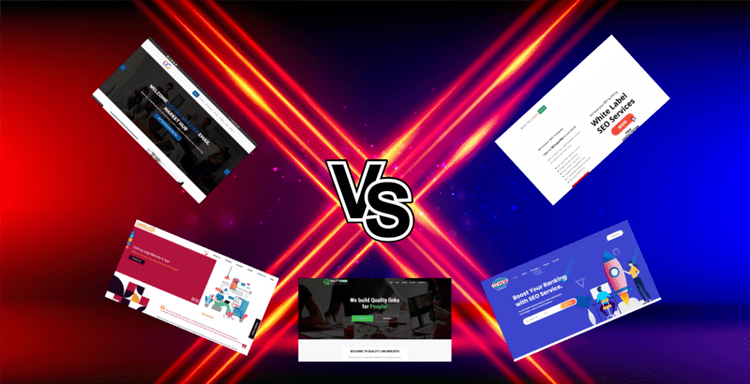 For any company, spam and scam emails are a common reality. Here at SilverServers we also receive constant offers for SEO Services from companies all over the world. We're unsure if all of these companies are legitimate SEO companies, but for this SEO showdown, we decided to find the websites of the Spammers that email us most often, test their sites against each other, and select a winner!
The winning website for this time was Quality Link Builders! The Quality Link Builders team proclaims to offer SEO Services.
Let's take a look at the competition that Quality Link Builders was up against.
The SEO Companies We Reviewed
For each these 5 SEO companies, we performed a keyword test of 100 popular search terms for common SEO services.

Each of these company websites was reviewed by the head of each team here at SilverServers. Scores were awarded, and the website with the highest overall score was the winner. Here are the comments of each reviewer:
Website Design and Social Media Presence:
Emma is our team's Social Media Manager. With an eye for design and visual quality, she also provides consultation about website design (including how SEO-friendly a design will be). Here are Emma's comments:
"I reviewed the design, layout, and overall flow of each site. Quality Link Builders scored well in my assessment. Many factors contributed to their score, but the 2 key points I'd like to highlight are:
Simplicity of the visual design — Quality Link Builders has a simple, easy to navigate design. The site has well-defined sections, with appropriate spacing and well-defined content areas.
Calls To Action (CTAs) — There are many CTAs throughout the site, most notably in the header area of the homepage. Green is used for many of the CTAs, which helps the buttons stand out against the background of the site.
As with any website, there are some improvements that could be made as well. I would recommend displaying contact information such as a phone number and email in the header of the website, to give visitors more opportunities to reach out. There is a social media presence for this business, but posts are not frequent or consistent in content. I'd like to see a more regular posting schedule!"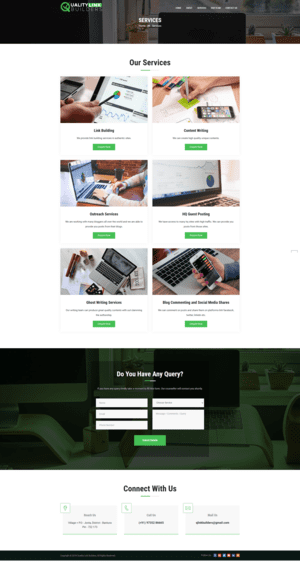 Technical Health and Quality:
As the head of web development, Chris is well-versed in technical aspects of a website. As a guru of the technical side of SEO, he's able to provide valuable insight for building and optimizing websites. Here are Chris' comments:
"I put the list of SEO Service companies through a run of different technical tests, and Quality Link Builders rose to the top.
Load time is such an important stat for any marketing actions taken on your domain, and Quality Link Builder's domain came in around 0.5s averaged over repeat tests. The website also clocks in at just over 1MB in filesize, which means slow or cell data connections should still be able to load the site quickly.
Quality Link Builder's website also performed well on mobile devices, and obviously had some attention paid to how their mobile visitors interact with their content. Responsive design is important and this domain did the best job of it.
One place I would like to see Quality Link Builders improve their website's technical health, is to improve their meta and header usage. While their headings are mostly in place, many meta descriptions or titles are empty or missing important information. Some are copies of other pages and don't match the h1 topics on the page. Updating their meta and headings would help bring Quality Link Builder's site up in rankings and technical quality."
Content Health and Quality:
Andrew manages the content writing and SEO team. He keeps up-to-date with on-page, text-based SEO practices that will continue to provide a website with search engine value despite Google's constant changes:
"In my content review of the list of SEO companies, I rated the quality of the on-page content, keyword focus on the copy on a page, the existence and regular use of a blog, an organized page layout with one main topic or theme per page, and more. The variations in results for this set of companies was very black and white — everyone scored very well or very poorly, with no one on middle ground.
Quality Link Builders didn't score well for content. Their high scores in other aspects made up for a lack in their content. The website has a great layout, as mentioned by Emma, but there's no content to provide that layout much SEO value. In other words, it's a great skeleton, but there's no meat on the bones!
Short, single-sentence explanations of many "Enquire Now" buttons give hope of more information, however, many of those buttons don't link to anywhere, so the content is of no value to the company. With no mention of a target audience, it's unclear who Quality Link Builders is marketing their services to, so it's unlikely that their content will help them rank in a Google Search Result.
Overall, I like the layout of the pages that exist on the site. However, I would recommend to the Quality Link Builders team that they add more pages with more content (at least a couple of paragraphs per page - even more is better). A great place to start would be to add individual pages for each of their services — a Link Building page, a Content Writing page, an HQ Guest Posting page, and so on. A News, Blog, or other type of article page would increase the website's value even further. It would provide an opportunity to support Services pages, let visitors get to know the team better, and build trust for visitors and Google."
Keywords and Search Engine Presence
Mickael, the CEO of SilverServers, leads to team to build custom tools that enable the team to check rankings and search engine presence of a company in order to determine how well we are serving our clients. Here are Mickael's comments about Quality Link Builders:
"For my test I picked a selection of 98 search terms relating to websites, social media, software, content management and seo. I tested the ranking positions of each website to where the businesses appeared to be located and noticed that none of them had any page 1 rankings that I could find. During the Lighthouse test the actual site performance scores were reasonable but some of the metrics could use improvement.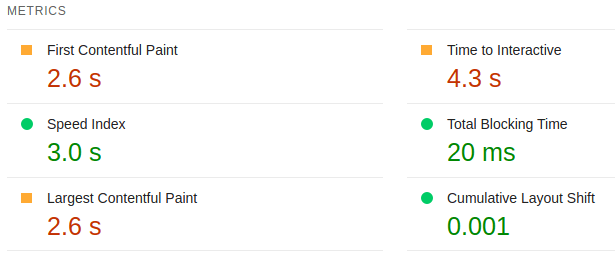 Without any known search engine rankings to work with, I found it difficult to pick the winner."
Congratulations to Quality Link Builders for their success in our SEO Showdown! It was a challenge to win among this group of competitors, but they rose to the top.
---
Head over to our blog for more SEO Showdowns!
Get a Free Website Review or chat with an SEO Consultant to see how your website stacks up in your industry.