The Paradigm CMS Multi Category Article System
Custom built by SilverServers
At SilverServers, our custom-built Content Management System (CMS) provides an article system that you can use to add great content to your website! Whether you use our in-house content writing services or create content yourself, you have access to Paradigm's user-friendly system for adding and editing articles on your website. Here are some of the great features of Paradigm's Multi-Category Article System.
Built On Top of an SEO-Friendly CMS
Paradigm CMS was built from scratch by the team at SilverServers to be an SEO-friendly system. Not only does it generate lightweight, fast-loading pages for your website, it also makes many of the technical pieces of adding new pages easy to see and difficult to miss. Our article system is built on top of that base, so you can trust that your blog, news, or tips posts are lightweight, fast loading, SEO-friendly from the technical side, and being added to the sitemap.

Multi Category System
You will be able to use Paradigm's article system in more than one place on your website. If your vision for you website includes multiple areas that could use an article system, it is easy to set that up! The article categories can be purposed as blogs, FAQ pages, product listings, news and tips pages, and more!

Easy To Update The Content and Technical Pieces of the Puzzle
When you access the article system in Paradigm to create or edit an article, you will see the technical pieces that the articles needs laid out in an easy-to-view and easy-to-update way. Any pieces that are SEO-important will be marked so that you can be aware of them. Whenever help is needed, our Grassroots clients can reach out to our Support team and ask questions.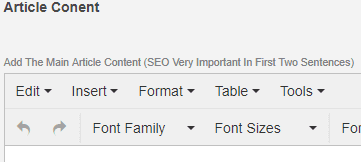 The article system also uses many of our other tools and features, which you will be able to read about in the Paradigm section of our website!
Can Be Customized for You.
As a result of Paradigm's article system being custom built by our own team at SilverServers, we are able to continue the customization on your website whenever you might need that. If you need custom functionality like displaying pictures in a certain way, creating buttons that connect a testimonial system and project system, adding a simple way to display your social media posts, and more, you can ask the development team to build that customization for you!
Having your CMS and its customizations built by the same team means that they will always be compatible. You won't need to keep track of communications with multiple companies as they all update their plugins at different times.
To learn more about Paradigm CMS and how it can help your website, get in touch with us at SilverServers! We develop SEO-friendly web tools that can help your website load fast. Paradigm is also included as a part of our Grassroots Search Engine Optimization (SEO) program. Get a free test of your website today to see if your site could use a speed boost!
Back To Paradigm CMS