Custom Web App Software Development
Some of best experience our Kamloops based development team has earned has been in our ongoing commitment to building website software and applications for ourselves and our clients. In a world filled with Wordpress plugins some businesses find that they're well serviced by what's available out there. What we often find is that there are a lot of great software applications available for almost anything you can think of, but they don't quite fit what we're after. Sometimes there are concerns about privacy issues, where the data is stored, security and the companies or individuals that are providing the services.

When this happens what we like to do is sit down and figure out what the problem is we're trying to solve, and what that solution looks like. A great example of this is our custom built monitoring system what we call Pulse (actually some of us call it Heartbeat but that's another story). Running hundreds of services in multiple locations, we found that the cost to monitor all of these using available third-party tools was a bit too expensive. For some core services that fit into the normal range of third-party tools, their service makes a lot of sense (and we still use them). For monitoring hundreds of non-critical services and for monitoring custom things we wanted something that we could modify and scale to use however we want. Back in 2015 we launched the first version of Pulse that only monitored basic server functions to make sure they were online - and notify us if they weren't! Today, the Pulse system not only keeps track of server uptime, it keeps track of how much bandwidth our data centres are using, the temperature and humidity levels, IP addresses that are attacking our servers, the status of our weekly SEO reports and PHP errors detected in our CMS system. Here's a look at the interface: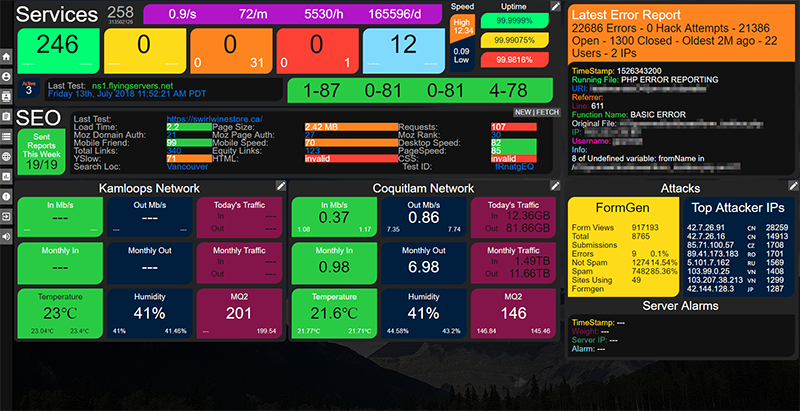 Get Your Software Built Today!
Back To Services