Emma Maddison
---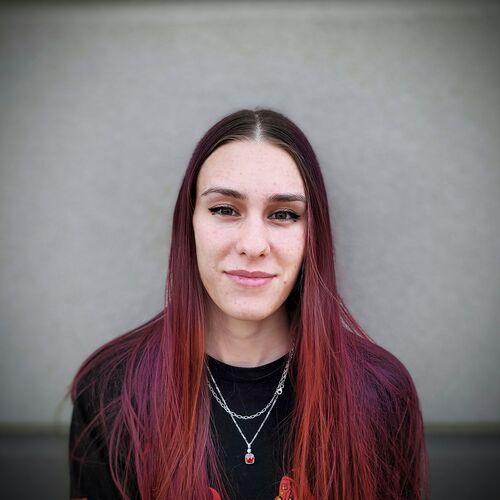 Meet Emma, the social media manager at SilverServers.
When did you start working with SilverServers?
I started working here in the fall of 2020, shortly after graduating high school. My job was to get us started with providing social media services, and managing our own. I took Alacrity Canada's Digital Marketing Bootcamp in August of 2020 before starting at SilverServers.
What's your position, and what do you do?
My job is social media/digital marketing and website management. Typically, when new clients come to us, I help manage the startup of their website and get them established in the Grassroots program. I'm often present at our first meeting with the client, and I make note of what their driving needs are that brought them in, then work with the team to make sure those needs are met throughout the startup process. For some clients, this means directing our team through building a specific tool or meeting a certain goal in design and content, and for others it may simply require consistent reminders of where and when their participation is needed. I like to ask clients "How annoying do you want me to be?", and go on from there!
I also discuss social media and digital marketing with new and old clients. If they are interested in social media services, I create a custom plan that will fit their needs. Because we deal with clients from so many different fields of work, one plan may look drastically different from another. My goal is always to accommodate the client's schedule, way of thinking, and marketing needs. For example, I have a standing meeting every week with one client, but I also have some clients who prefer almost no interaction at all!
What have been a couple of your biggest successes so far?
Starting up the social media program and seeing it grow into what it is today is a huge, ongoing success for me. I take a huge amount of pride in seeing my clients' successes and helping them present themselves to the world in a way that is true to who they are.
I have also developed skills in working with clients that are busy, forgetful, or difficult to manage. I think I approach some things a little differently than most people, and it gives me an edge with the clients that are harder to engage with than others.
What are you looking forward to doing here?
I always look forward to every new week of content that I get to share for my clients. Managing their social media gives me a fascinating window into what they are achieving in their work, and I always find it exciting to share some of that with the world!
Where might a client see the work you've done?
I do social media for our clients, but I also do it for SilverServers as well! I'm behind the camera for many of our photos and most of the videos we share, and I write the content in the captions of the posts. I've also written a couple of articles for the blog, and plan to write more in the future.
What do you enjoy about working with SilverServers?
I love the creative problem solving that I get to see and be a part of all the time! Everyone here has such different skill sets and so much valuable experience, and I'm always learning from them. It's really awesome to be surrounded by people who are so much smarter than me!
What are your interests outside of work?
I'm an avid gamer who spends a lot of time online with friends from all over Canada and the US. I love music, especially rock and metal, and have been making efforts recently to go to a concert here and there. I'm also an artist, although I haven't been as active lately as I was in the past. I've done some art commissions over the years, including several tattoo designs for friends. Some of my older art can be found on my Instagram account
---
If you need help with your company's social media presence, contact us today to meet with Emma!
Meet more of the SilverServers staff!