SilverServers April 2023 Newsletter
April 3rd 2023
---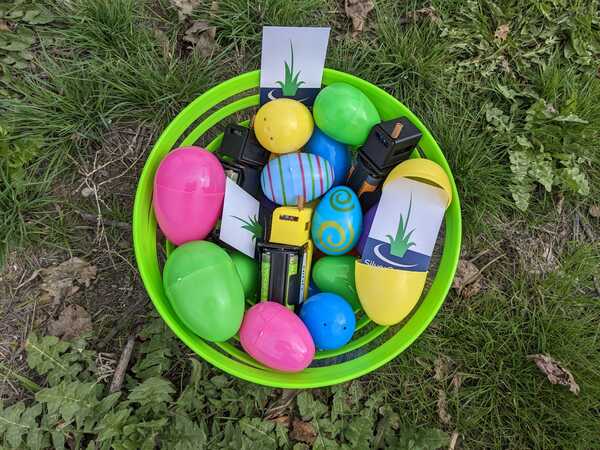 Welcome to the SilverServers Newsletter! As we gear up for April, we at SilverServers are excited about the coming of spring. Snow is melting, flowers are blooming, and new SEO and tech ideas are flowing here at the office. If it seems like a perfect time to renew or refresh your online presence, then read on for some tips and news!
With the booming popularity of AI content — including in how we use it here at SilverServers — we thought it fitting to mention that AI did not write this newsletter!
In A Nutshell: The Text Summarizer
In late March, Blake built an AI tool called "In A Nutshell". The tool takes a website url or a copy-pasted piece of text, then summarises it to 100 words or more.
Try In A Nutshell for free now! Try pasting the url for this newsletter or some recent news from your location.
In its first few days of being live online, we've heard of In A Nutshell being used to summarise lengthy news articles, complex technical documents like privacy policies, lesson manuals, and more. Keep your eyes on our blog for more information about In A Nutshell!
SEO Showdown for Small Ski Hills in BC
We're excited to share that our team completed an analysis of the SEO of ski hills in BC! As many of us enjoy skiing, we decided to dive deeper into the topic as part of our SEO Showdown articles by analysing the websites of smaller ski hills throughout the province. Our analysis provided valuable insights that will be helpful for informing the SEO strategies of small businesses in the travel and tourism industry.
Read our analysis in the Ski Hill SEO Showdown!
We discovered that many small ski hill websites are fairly low-quality and provide little more than the bare minimum of information. Our findings highlighted the importance of optimising certain aspects of technical health and content in order to increase search engine visibility. By sharing our findings, we hope to showcase our team's expertise in SEO analysis while also providing valuable tips that any reader can use for their own website's optimization!
Team News
Mickael Maddison
Mickael was recently sworn in for another two year term as a director at the Kamloops Chamber of Commerce. SilverServers has always focused on helping small, local businesses. With Mickael as a director of the Chamber, he will be able to continue providing his business and technical expertise to the Chamber, so that they are better able to support small business in Kamloops.
ChatGPT: Artificial Intelligence
ChatGPT is an artificial intelligence chat bot that was launched by a company called OpenAI in late 2022. Some of our team has been trying out its various features before March — we even shared a conversation we had with it — but over the past month, some of its uses have 'clicked' with the team and become a bigger part of what we do. AI is now used in our SEO, writing, and other services. Want to know more about how we use it? Reach out to ask!
IoT Sensors Project
If you're new to our newsletters, then let us briefly introduce you to our sensor project. At SilverServers, our tech team has custom built temperature, humidity, and pressure sensors that we use throughout the data centre we operate out of. They're useful in data centres and many other applications — and we also build sensors that track even more!
Our most common sensors run on AA batteries, and we keep track of how long they run before the batteries die. Currently, the record for a completed test of our AA battery sensors is 516 days.
An in-progress test with one of our sensors on a bigger (Li-SoCl2 34615) battery is currently about to achieve 640 days.
Learn more about our IoT Sensor project!
Email Services/Tips
It's tax season in Canada! As a provider of email services, SilverServers would like to remind you to be mindful of CRA scam emails over the next couple of months. Email scammers like to take advantage of this time of year by sending out convincing CRA scam emails. Think twice before you click anything! Make sure you trust it before you click it, and feel free to reach out to someone more familiar with scam emails if you're unsure!
Tip of the Month: Don't Have Time To Write? We Do!
Does your website need blog articles to help it rank better in search engines? Do you need more robust and valuable explanations of your services on your website? If you don't have time to write, let us! The primary focus of our Grassroots Standard and Professional packages is to write website content for you. We promise that you will be surprised at our ability to write about many of the topics you ask us to write about — even if you think we can't know much about your industry. Your input into a topic will always be helpful, but with the help of Google and other tools, we may be able to write the next article you need on your website!
Reach out today to get started on your next blog post or page upgrade!
Thanks for checking in with the SilverServers Newsletter!
---
Find past newsletters, with their "Tip of the Month", at the SilverServers News section of our blog!