A Cheat Sheet To Some Google Analytics and a Guide To Your SilverServers Monthly SEO Report
December 11th 2018
---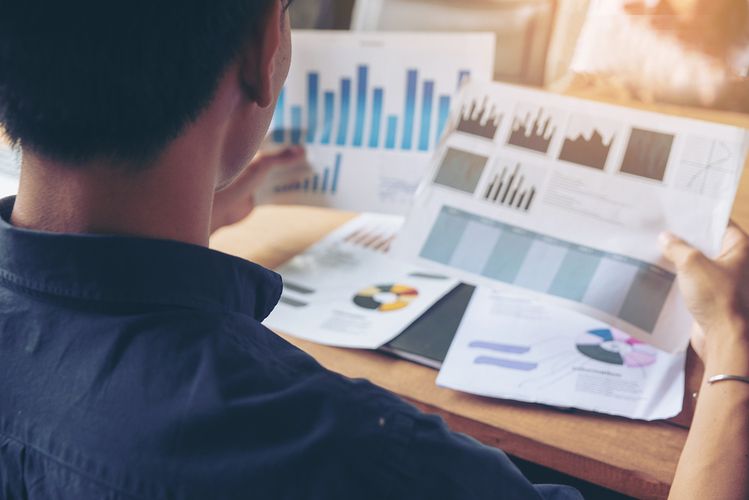 For clients in the SilverServers Grassroots Search Engine Optimization (SEO) program, getting a monthly report on website traffic, page performance, keyword rankings, referrals, and more is valuable for their business and their ability to make decisions about their websites. You see, our team builds websites that focus first and foremost on the technical side of SEO. We choose to find out what Google says they're looking for on a website from a technical perspective rather than just following popular trends. This can mean that the websites of our Grassroots clients can grow organically in search results as we feed them content on a regular basis which can be understood by Google. An important tool that helps us and our clients decide what should happen next on their website is our monthly SEO report. However, these reports have tons of information on them! When you're not used to seeing this information every day, it can be easy to forget what each part of our reports means. So here is a cheat sheet to some Google Analytics terms and a guide to your SilverServers SEO report.
On the typical monthly Grassroots SEO Report, there are 12 sections that use data from Google Analytics. We're going to give a rundown of each and the statistics and some things you might like to know about them. Before we start though, let's define how Google uses the words "visitors" and "visits", then we'll go on a tour of the report!
The Difference Between Visitors and Visits in Google Analytics
Sometimes on a report, you will see that in the Total Traffic section there were something like 100 visitors on the website, but then down in the Most Visited section your Home page had 800 visits. How can that be? Visitors and Visits are different ideas in Analytics. A visitor is a unique IP address that visited the site. A visit is a count of times a page was visited. 1 visitor could visit a page 800 times. If that was the case, the visitor count would show 1, while visits would show 800.
Not long ago in Google Analytics, the term "Visitors" was replaced with "Users" and "Visits" was replaced by "Sessions". These have the same meaning as before, they're just using different words. In our reports, we're currently still using the terms Visitors and Visits. Ok, let's get started!
Total Traffic
The numbers in this section generally show the count and quality of your visitors. Quality means if visitors appear to be interested in what your site has to offer. On the notes for your report, you will see that the first comments we make are about how your traffic and quality stats were. This is where we determine that! There are always six lines in this section.
Total Visitors
Total visitors is the count of individual visitors that visited your domain in the time period of the report. Of course, the higher the visitor count the better. When we look at reports, we're looking for growth over time. Sometimes we're able to see patterns based on the time of year. For example, a boat rental site may get fewer visitors in cold months. Conversely, a toy store's domain may have continually increasing visitors until December, then a sudden drop in January and February.
Total Bounce Rate
A website "bounce" is when a visitor navigates away from your website after only looking at one page. "Bounce rate" is the percentage of your total visitors who bounced. Typically when this stat is high that is viewed as negative. However, for a few websites a high bounce rate is normal! For example, a plumbing website with dozens of DIY videos might have a high bounce rate due to successfully providing people exactly what they're looking for – one DIY video to help them fix one problem. In this case, a high bounce rate can be a sign of a website that is a success.
What should you expect to see with a bounce rate? In our experience, a bounce rate around 50-70% is normal. We consider 50% a good bounce rate. Once it starts climbing higher than that, we start looking at why. If your rate is below 50%, that's a sign that visitors are moving around your website more than average. That's great!
Pages/Session
This is the average number of pages your visitors visited during a session. What is a session? When you open a web browser (ex Chrome, Firefox, Edge, etc.),that's the beginning of a session. When you close the browser (not the tab, but the whole browser),that's the end of your session.
Duration of Visit(s)
This is the average length of time that visitors stayed on your website – in seconds.
Pageviews
Pageviews is the full count of page visits.
New Sessions
A new session is when a visitor comes to your website for the first time. The percentage of new sessions tells us how many of your visitors came for the first time. This statistic is neither good nor bad on its own. It is dependent on whether you're hoping for more new or more returning viewers that month.
Total Traffic (Country)
The statistics in this section are the same as Total Traffic, with a twist. This section shows you these stats for the country that visited your website the most that month. If the heading says Canada, then you had mostly Canadian visitors!
Traffic Info (Medium)
The section about the traffic medium gives us an overview of where visitors came from. There are usually only 3 lines in this section which show the percentage of your total visitors that arrived via each source.
Direct
Direct traffic usually comes from a couple of places. First, when a person types your domain name (ex. silverservers.com) directly into their browser's address bar, that counts as +1 visit. Second, if someone clicks on a link to your site from a non-web-based email program like Outlook, that counts here too.
Organic
These visitors came from Google Searches. This stat is what the Grassroots program is designed to help grow. Although we like seeing other numbers grow, this is the number that we want to see getting bigger!
Referral
Referral traffic is visitors who clicked on a link on a different website. Whether they came from a link in Facebook, a blog, a web-based email program, another search engine (ie. Not Google),or anything else, this counts towards your referrals.
Traffic Info (Device)
From here, we can see an overview of what types of devices people are using to visit your website. We can use this information in many ways, including making decisions with you about what aspect of your site's visual design to focus on. We know that visitors look for different types of information on different devices, so this can help us get a feel for whether the right types of visitors are regularly looking for the information your site has to offer. There are only 3 lines in this section – desktop, mobile, and tablet. We won't go into depth on those here, since they're fairly self explanatory.
Most Visited (Total)
This section contains information about your most visited pages. There are usually 7 lines here. The numbers on each line here represent visits, not visitors. So if one page says "150", that doesn't necessarily mean that it had 150 visitors. It could mean that 1 visitor visited 150 times!
Most Visited (From Google)
This section is very useful for making decisions for SEO. Each line contains a count of visits (not visitors) to that page from a Google Search. The pages are displayed as part of their website addresses. So the line with a "/" is your Home page. On your report, you may see a few pages listed with a 0's beside them. That means that they received no visitors. The pages that show up with 0's are meaningless for the report and often have no rhyme or reason as to why they are sorted this way. Google chooses pages to fill in here in their stats and these are carried through to your reports.
Top Referrals
This section contains counts of visits (not visitors) that came to your website from other websites. It can have as few as 0 lines and as many as 7.
Backlinks
Each line in this section displays a website that has one or more links to your website on it. The number is the amount of links that could be found throughout the other site. Something this does not show is backlinks from social media.
Keywords Sections
To generate the Keywords section of the report we use a tool from Google called Search Console. In this tool there is a long list of data containing all the keywords you have ever shown up for along with data about clicks, impressions, and so on. Before we look at these two lists on the SilverServers SEO report, let's define a couple of words that Google uses:
Impression: you receive an impression when your website shows up in a Search result. This does not mean the site was clicked on or seen. For example, even if your website shows up on page 20 of a search result, you still get +1 impression.
Click: when your website shows up in a Google Search and is clicked.
CTR: "Click Through Rate". This is simply the ratio of clicks to impressions, displayed as a percentage.
Position: The average ranking of your website in all impressions you received. It's important to note that this stat does not take geographic location of the person who searched into account – so it's not a representation of your local ranking. If you ranked as the 150th result when someone from another country performed a Google Search then that 150 will be included in the calculation of this average.
Top 5 Keywords by Clicks
The Google Console list we discussed earlier is organized by clicks when we access it to generate our SEO reports. We create this first keywords section by taking the top 5 keywords from the top of that list and displaying them here. Something to note is that in the Search Console list, search results that didn't get clicked on (ie. the Clicked stat is 0) are organized randomly, like we talked about above. So, if on a given month your report shows that you have some keywords that were clicked (or none) and some that were not, that means that the clicked keywords were intentionally put at the top of the list (if there were any) while the unclicked keywords were randomly added to the list.
Top 5 Keywords by Impressions
This section displays the Top 5 Keywords by Clicks section re-ordered by impressions, instead of clicks. This can tell you how valuable your clicked keywords are to the site!
To get more in-depth information about impressions, including information on high numbers of impressions that did not receive clicks, you can ask us! We are happy to get this information to you and help you use it.
Internal Links
This section shows us how many internal links there are within your site. Typically, the numbers in this list will be fairly equal and the pages listed will be your main menu pages. The reason for that is that every time you create a new page on your website you create a new set of main menu links. We typically use this section to see quickly if links are being created correctly when new pages are created. By that I mean that if we know your site has 20 pages, you should have around 20 internal links to the main pages in this list.
We can also use this section to keep track of which of your main pages are being linked to the most from your articles. If you want visitors to be ending up on a certain page, it should be the page with the most links to it! Google values an internal link structure – but that is another topic!
Top Country Visits
This section breaks down the total visits from different countries.
The SilverServers monthly SEO report is a snapshot of the data that Google Analytics collects about your website. It takes the basic stats and displays them to help us make decisions about what steps should come next for your website. There is much more information that Analytics can provide for your SEO health. For a more detailed analysis of your site, let our support team know! If you would like to see all of your stats, visit your Google Analytics profile, which you can access at anytime!
Contact us if you have any questions about your Grassroots SEO Report!
For more answers to FAQs received from our Grasssroots clients, check out the Grassroots FAQ section of our blog!