SilverServers Designs Community Mapping Software that Contributes to an Award for Pitt Meadows Museum
December 21st 2018
---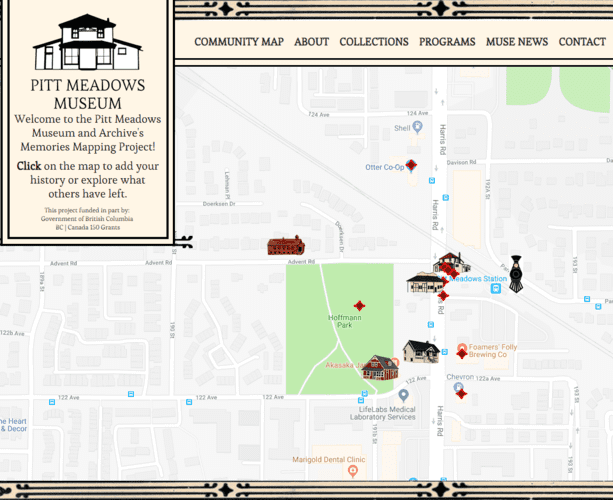 SilverServers is a tech company in Kamloops, BC that offers website development, web hosting, software and search engine optimization to small and medium companies around the world. This is not your typical web development team using existing web platforms or applications to create aesthetically pleasing websites, although our designers ensure aesthetics are part of the package.
In fact, the team of techs/creatives at SilverServers prefer to custom build the systems we need to provide exceptional web solutions. For example, our custom coded Content Management System, Paradigm, is built from scratch to afford our business clients numerous features that add up to fast, lightweight websites designed to build authority with search engines.
Over the past 20 years, we at SilverServers have also committed to building custom website software and apps for our clients. Rather than pulling in numerous plugins to patch a program together, our customized approach allows us to really hone in on what our client's software needs are, while still maintaining website speed, and protecting privacy and security for our clients.
SilverServers Teams Up with Pitt Meadows Museum
Early in 2018, our team had the honour of collaborating with Pitt Meadows Museum on the Pitt Meadows Museum and Archive's Memories Mapping Project. The Museum wanted to provide past and present residents of Pitt Meadows, in the Lower Mainland of BC, a means to interact with the history of the area by sharing memories and telling stories directly on the museum website.
We built the Community Map software for Pitt Meadows Museum using the existing Google map structure, and were able to create a fun, user-friendly tool that allows contributors to click anywhere on the map. If the structure or landmark chosen is not already defined, the museum software allows visitors to input map markers, and prompts them to submit a story, including a location name, up to seven images, a video link and an audio link.
If the map coordinates are marked already, with stylized custom markers for heritage buildings and the C.P.R., or red rhombus shapes for other landmarks, users can click and read some history and view images. All submissions are sent to a moderation team before they go live on the map.
The map markers and related stories on this Google Map become articles in their own right on the museum website. The customized museum software utilizes all of SilverServers' SEO tools, therefore, the articles are indexed for search engines to find them and to direct traffic to them based on what people are searching for. If the articles are not matching up with keywords used by searchers, our content writers or Museum staff can update and optimize the content of the articles/markers so that they show up better in search engines.
There are plans for local businesses to be able to claim their spots with "Your Business Here" markers. Businesses and organizations will be encouraged to support the longevity of the Community Map project by sponsoring business locations on the map, which will mutually benefit the business community and the Pitt Meadows Museum to sustain this innovative and interactive map project.
BC Museums Association Awards Pitt Meadows Museum
In March 2018, British Columbia Museums Association awarded Pitt Meadows Museum for their Community Map Project with a Change Makers Award. Because the map project allows locals and/or researchers to learn about and interact with the rich history of the area, the Museum is being recognized for "making a substantial contribution to the cultural field by tackling an idea with a new solution". This project was funded, in part, by the Province of BC through the BC/Canada 150: Celebrating BC Communities and their Contributions to Canada grant program.
Here at SilverServers, our monthly analytics review reflects that since implementing the Community Map on their website, the Pitt Meadow Museum's Community Map entries show up on the first page of the search results for most "history" searches about locations and street names in Pitt Meadows. It is our hope that other museums and communities will consider putting our Museum Mapping Software to work on similar community map projects. Contact Us to find out how to get started.
For more news, check out the SilverServers News section of our blog!