Claw Manufacturing
December 28th 2017
---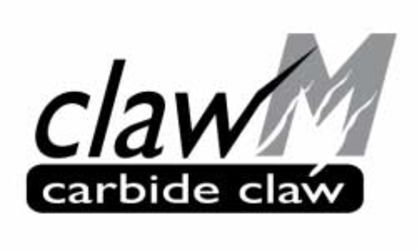 SilverServers likes to be active in the community so that we can meet small and medium business owners and show them how search engine optimization (SEO) can help them have a healthier website. Websites need quality visitors that are interested in the products and services offered on site. We provide affordable Kamloops website design and SEO services so that these businesses have a better opportunity to strategically build their online presence instead of spending thousands of dollars on a one-time website build that may or may not improve their business. One of the great small businesses we met at a community event is Claw Manufacturing (ClawM).
ClawM manufactures and installs patented traction studs for equipment with rubber tracks or rubber tires. This includes machines like forklifts, zoom booms, skid steers, and excavators. Their carbide claw studs improve traction and stability in all directions on any slippery terrain. Brad Blackburn began manufacturing these products in 2014 and is now shipping them throughout Canada and the USA.
We met Brad while attending a Kamloops Innovation event here in town. Mickael chatted with him there and explained SEO and the Grassroots program. Brad thought it sounded useful so he later signed up to get a website with high quality, industry compliant code that would be optimized for searched engines. We began work on the ClawM site right away and launched it in June 2016.
One of the focuses of the Grassroots program is building local authority for the physical location of a business and for its service area. The intention of this is to help a company's website show up in a Google Search for the city it operates in and the locations it serves. From there we can then expand to add locations – ideally in the same way the business itself might expand. With that in mind, ClawM's domain is unique in our program because it has never had a location focus, yet it is still ranking first, or competitively high, in many, many locations throughout Canada and the USA. Getting to that point took them time and commitment to following the suggestions on their monthly SEO reports. Now, it is exciting to review their site as we prepare their report and see all of the places where they rank highly and have quality visitors that they successfully convert into customers. We attribute much of their online success to the staff of ClawM communicating regularly, using their blog often, and correctly linking their blog posts to a few social media accounts like Facebook, Google+, and LinkedIn. They are also effectively using their YouTube channel to attach videos to their article posts and web pages. This, plus many little updates, edits, and fixes along the way, has helped them build an online presence for many of the locations where their product is used.
If you're in forestry, construction, or any industry where you need your machines to have a better grip of the ground, check out ClawM to learn about the quality grip-improving products they offer. If you need to get a better grip of your online presence, website health, and search engine rankings, give us a call at SilverServers or get a free website review from our support team!