Q&A: Why We Don't Give Ongoing Creative Control Over Website Design During Your SEO Contract
December 7th 2021
---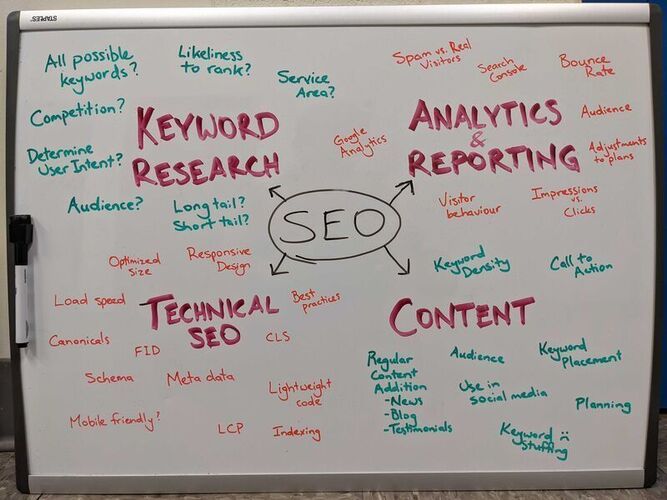 Will I Have Complete Control of My Website?
What Is Responsive Web Design?
Can I Install 3rd-Party Plugins?
Can I Adjust My Page Templates?
What Areas of the Website Do I Have Complete, Direct Control Of?
Can I Get Control Of Areas I Edit Regularly?
Why Can I Make These Changes in Wordpress/Wix/Square, but Not In Paradigm?
Most web development companies you'll interact with are marketing companies at their core. They know the tools available, they know how to use them the way they're designed to be used, often they know how to stretch those tools to do amazing things, and they do a great job.
SilverServers is different. Unlike most marketing companies that offer web development, we're a tech company at our core. We build electronics from scratch. We operate a physical data centre and maintain our own servers. We build software from the ground up. We don't adjust our approach to fit the constraints of available tools, we purpose-build the tools we need so that they do exactly what we and our clients need them to. With that skillset comes a knowledge base about how tech works that most marketing companies don't have. It's what makes us different and unique in the marketing industry.
This difference between SilverServers and most other marketing companies has an effect on which website editing tools our clients are given by default on the Grassroots SEO Program. In this article, we will explain which tools are available, which aren't by default, and why.
Will I Have Complete Control of My Website?
Yes, but probably not in the way you might be familiar with. We'll get into details later in the article, but we'll explain an overall point here at the start. The Grassroots program is a managed service for a set period of time (usually 2 years). Instead of our team building a great site and handing it over to you to do what you would like with it, we're providing our team's time to you – which includes 20+ years of industry experience in programming, seo consulting, writing, server management, and more. We're going to work together with you for the duration of your contract on the program. Our team is going to be your most effective tool in this process.
In order for the program to have a higher chance of success, we need to follow best practices for the industry, and sometimes that means we may ask a lot more questions about change requests than you might expect.
Some changes that seem small visually make a massive difference technically. In order to maintain the technical quality and SEO-friendliness of a website, we ask clients to let us know what updates they want, then we make those changes in ways that minimize effects on the technical quality of the site.
Now, let's get into some more specific questions.
What Is Responsive Web Design?
"Responsive website design" is a way to design your site so that it intelligently rebuilds itself to look great at every possible screen size. It is a powerful tool that our team is highly skilled with. We know how to use that tool to your benefit.
It means you might have to approach visual changes differently though. Little changes to the full-screen version of a site might not be a big deal on only that screen size, but making that "little" change work at every desktop, tablet, and mobile phone size may be complex. Even if it can be done visually, writing code to make it happen technically may be a bigger task than you might imagine. Because of this, getting a simple job done might take some discussion in order to find the best way to do it without breaking your website's design.
As you might imagine, making adjustments to the look of a responsive website takes a lot more time than with a static website. We want your website to look the way you want it to, but since the look of your site has almost no effect on search engine rankings, we try to create the most complete and functional version of the website right at the start. That way we can spend more of your time each month accomplishing your SEO goals instead of measuring the height of each month's newest font on every screen size.
What CMS Platform Do You Use?
Although we offer SEO packages that use Wix or Wordpress, most often we build websites in our own custom-built CMS called Paradigm. Paradigm was built from the ground up by our team (you can read more about it on the Paradigm Content Management System page).
Can I Install 3rd-Party Plugins?
Although Paradigm can't use most 3rd-party plugins like other CMS programs can, our team can custom-build tools directly into the system for you to use. That's one of the benefits of a custom CMS.
Can I Adjust My Page Templates?
Yes, but not on your own. Updates to an seo-friendly, mobile-friendly, responsive website are typically not as simple as they might seem on the surface. Small visual adjustments need to be reviewed at every screen size, and the code has to be optimized so that it loads as quickly as possible – also at every screen size. You can email us about changes you would like and we'll discuss a plan of action with you!
What Areas of the Website Do I Have Complete, Direct Control Of?
Each page should have a main content area. You have control of that area. To change headers, footers, and other custom designed areas, you can let our team know what you want to do, then we'll do it!
Some websites we build have custom access to certain areas. Let us know if you regularly need access to a footer message, a list of upcoming events, a text box on your banner, or other spots on the page. We may be able to build access to that area for you!
Can I Get Control Of Areas I Edit Regularly?
Yes. Since our custom built CMS is built in-house, we can add functionality into it for you to change photos, text, and other content within certain areas.
Can I Add a New Font?
Yes – let us know what font you want to use and we can add it to the site for you! There are a few things you should remember though before you add a new font:
1. Every font you add to your site increases the size of the site.
2. Not all fonts are equal in regards to their seo-friendliness. Some popular ones are known to cause performance issues.
3. Many fonts aren't free. Additionally, many paid fonts require extra costs if you want bold or italic.
4. Too many fonts is also a potential cause of performance issues.
5. With "responsive website design", changing a font may have unexpected results. Occasionally, we have to test a font before we will know if it's usable at all screen sizes. Keep in mind that for paid fonts, this means buying a font you might possibly not be able to use.
We typically ask clients to go to Google Fonts at fonts.google.com to find the font they want, then to send it over to us. When they're from Google Fonts, they're easy to add, and often don't cause issues.
Why Can I Make These Changes in Wordpress/Wix/Square, but Not In Paradigm?
Imagine buying an entire bus to transport one person to their neighbour's house. Metaphorically, that's what these platforms do. They add a bus-load of code under the hood of the website every time you want to do one small task. Why? These pieces of software need to be able to be everything for everyone. They need underlying code that allows for every conceivable creative decision a user might make.
It's incredible that they can make this happen, and it's great for the look of the site and for your freedom to be creative. It's easy to make visually appealing websites with software that's ready for you to make almost any creative decision you might like. However, those multiple bus-loads of code have to load every time each webpage gets a visit, and loading code takes time.
One of Google's primary metrics for ranking websites is loading speed. They know that their users want websites that load in less than 3 seconds, so they tend to rank websites with fast load times. Websites that have to load multiple bus-loads of code in order to look nice may struggle to rank in search engine results. It might be worth considering if all that code is what you need.
Paradigm is purpose-built to be fast and technically accurate. In order to keep it that way, we didn't design it to be everything for everyone. Instead, we designed a program that gives you a team of skilled programmers to do the pieces of website work that affect its technical quality – and we give you access to the pieces of the site that don't affect technical quality.
We implement your approved design template – and only your approved design template – to provide you the best possible opportunity to compete in search engine rankings. Because let's face it, if you're ranking on page 4 of a search result, absolutely no one is seeing your site or praising your great choice of font.
Contact us today if you'd like to get a tour of Paradigm CMS and learn more about our Grassroots SEO Program!