5 Common Problems You Might Encounter with Free Email Services
June 1st 2021
---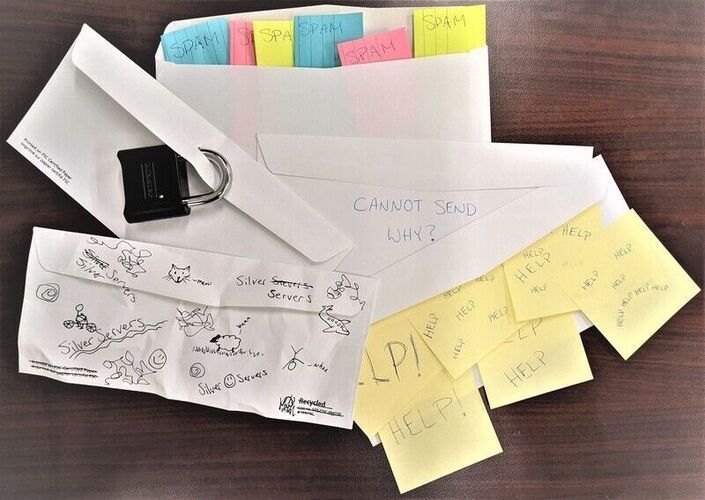 Free email services, while convenient, are riddled with problems that can quickly turn from a short-term cost savings to a set of serious long-term problems for your business. SilverServers is an email services provider from Kamloops with servers located at the CanShield Data Centre in downtown Kamloops. They have identified 5 problems you can almost guarantee you'll experience by using a free email service.
Unprofessional Appearance
Have you ever heard the phrase, you get what you pay for? In the case of free email providers, you're getting a barebones service, commensurate with the free price tag. Free services lack the quality standard you can come to expect from one with an associated cost. Those costs go into the development of features not available for their free counterparts. Email is still the leading form of communication between business prospects and those inquiring about goods and services, and lacking a professional email can give the impression of inferior products and services. Over time, these missed customer communications lead to a loss of profits far beyond what it would have cost to go with a professional email provider. Don't cut corners with your primary means of communication.
Low Control of Spam Filtering
While free email services have extensive filtering to protect their users from phishing or hacking attempts, sometimes this can be detrimental if you're looking to let someone through. This becomes a revolving door of issues as you continuously play with the settings, whitelist address after address, or try to add your own filters. After an exhaustive amount of wasted time and energy, you may find that the messages you want aren't getting through, and the ones you don't want still are. A paid email service provider is different in that a team of developers work tirelessly to make sure verified messages get through, and spam attacks get out.
This leads into a breakdown of the two issues regarding messages coming in and going out.
Difficulty Receiving Emails
As discussed above, in free email services a heavy hand is used to manage spam risks, and there is extreme filtering involved. While this may seem like a benefit for personal emails, many business related emails often look similar to spam, leading your important business communications to end up in your Junk folder – or not show up at all! For every one email that ends up in your Junk folder, there may be hundreds more that didn't even manage to get that far. Bulk service providers like MailChimp or smaller providers like Zimbra may not make it through the spam filters of free providers. Specific types of emails that may not get through might include important business communications like invoices or hosting renewal notices, regularly missing these notices could possibly cripple your business!
Difficulty Sending Emails
Free email services are not only used by the "average Joe" for personal reasons, but spammers also utilize free services to send out their phishing attempts. Email servers therefore put a stronger emphasis on watching messages coming from free accounts. If by chance your email 'checks all the boxes' of a spam message, your important note, notice, or message won't even make it to its destination's Junk Folder.
Lack of Ongoing Technical Support
If you're one out of a few million non-paying customers and you have inevitable email issues, is it reasonable to expect you'll get top-notch technical support? It may be difficult to get in contact with someone knowledgeable in helping with your problem, and reaching someone you know and trust will be impossible. A paid email service provider is much more helpful and a local email service provider tends to operate with a smaller, more-knowledgeable team. The smaller, more personal team can establish a working relationship with you–for the small price of a domain registration and an email account. You can expect a paid provider to want to maintain their clientele and relationships through quality customer service.
SilverServers
SilverServers is a domain registrar and email service provider based in Kamloops. They aim to provide quality customer service and are ready to build relationships with their clients and solve any issues related to their services issues as quickly as possible.
Learn more about our email services then get in touch to set up your email account today!
For more related content, check out the Email Support section of our blog!