4 Tips for How To Work On Your Website While You Work From Home
March 30th 2020
---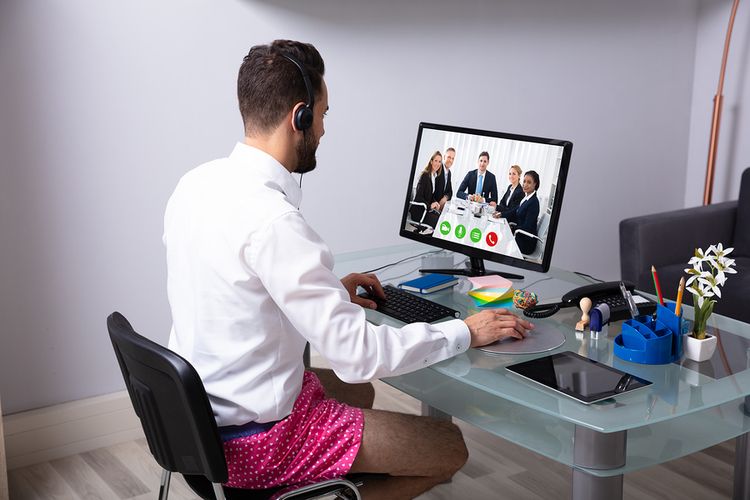 Over the past few weeks, huge changes have occurred in our lifestyles and in how we run our businesses because of the pandemic caused by COVID-19. Whether your business is large or small, precautions and changes are in place for everyone. For many industries working from home is fine and means "business as usual"; with maybe some reduced hours. For others, the effects of the pandemic mean that work is heavily decreased or just can't be done. Tourism, transportation, event planning, among others are industries designed to serve groups – groups which can't meet anymore. Dentists, optometrists, acupuncturists and many other specialized health and wellness services aren't seeing as many patients, if they're still able to operate at all!
As a company that provides website and hosting services to many of these affected industries, we're seeing the effect the pandemic is having on businesses – and we're feeling those affects as well!
For business owners who suddenly have a lot of extra time on their hands, we recommend a few things you can do to improve your business by improving your website. This way, once we all start coming back to "business as usual", your website can become your company's 24/7 salesperson, and you can focus on catching up with all the work that will hopefully start pouring back into your life.
Here are some tips for building up your website while business is slow:
1. Write down the answers to Frequently Asked Questions
When potential clients have a question, the first place most of them go is to Google or to your website. If they go to your website and don't find the answer to their question, they are more likely to phone, email, or message you. If you're getting the same questions over and over in phone calls and emails, that means you're spending hours and hours of your time answering questions one-by-one instead of spending those hours doing other work to build up your business. Your website can solve that problem and you can even get more visitors to your website. Instead of writing, saying, or even copying and pasting the answers to the same questions repeatedly for an untold number of hours, spend an hour or two writing the answer once and post it to your website's FAQ or Blog page. Then, the website will take on the job of answering those questions for you.
Additionally, if potential clients ask their question to a search engine, then they will be shown the company that the search engine believes answers that question the best. If your website doesn't answer the question, then it won't be displayed.
2. Simplify Your Menu Structure
Take a step back and look at your site's menu for a minute (or ask us to give you some feedback on it). It should be clear to a visitor (and to the search engines indexing your site) where they learn about you, where they learn about your services, where they request your services, and so on. Is your menu confusing? Will it be easy for a potential client to navigate it? Is your menu designed for more than just clients?
A great approach to how your website's structure works is to think of it like a tree. Trees have a trunk, main branches, then smaller branches and leaves. Each section of your website should have that structure too.
For example, you should have a "main" services page (trunk), multiple pages that break down the individual services you offer (main branches), then articles that answer frequently asked questions about those services, share testimonials, give news updates, and more about each service (small branches and leaves). The same goes for your About section. You should have a main About page that summarizes who you are, perhaps some pages that expand on that summary like a company history or a meet the team page, then articles like news updates about your business.
An SEO specialist can help you add proper HTML tags and an internal link structure to a site that's organized this way, which will give Google and other search engines an easy way to understand which information and pages are important and which pages to rank. Since a confusing site structure may lead to Google not quite understanding what's important (which may lead to receiving rankings for keywords you don't care about) it can be a benefit to take a look at your menu structure.
3. Create a backlog of blog posts or other content to post over the next few months
If you've had company news, knowledge articles, frequently asked questions, new services, staff changes, or any other information you want added to the site but have never had time to write it all down, then now is the time! Whether you write that content yourself or want to send instructions for us to write, your extra time is a great time to catch up on putting more information on your website.
In our Grassroots program, we recommend to our clients that they add a new page of helpful content to their site at least once per month. If you're able to do more, that's even better! Search engines like to see an active and living website. It gives them a reason to come back more often. Having regularly added content also gives them more and more information about your company, which helps them know better which people would be best to put your website in front of in a search result.
During the past weeks of the pandemic, we've had some clients filling our inboxes with new content for their websites. Having a list of content ideas means that these clients can have new blog posts on their website for the next few months – and that means we'll have plenty of work to do for them when they become busy with other work.
4. Update or Complete your Google My Business profile
When you search for a business name or a service, often you might see a business highlighted. On desktop computers, that business will be displayed on the right and on mobile devices, that business will display near the top of the search results. This is the public-facing information from the Google My Business profile of the closest business with a great web presence.
This profile is a powerful way to tell Google who you are, what you do, and what hours you are open, among other information. It also helps you rank in searches that use Google Maps. It gives the search engine something concrete and official to review to get a good overview of the basic information about your business. It's another piece of the puzzle that affects SEO, so we highly recommend using it.
Despite how useful it is, many small business owners don't use it or keep it updated! To access your profile, or to set one up, go to https://www.google.com/business/ to sign in or sign up. If you don't know how to get into your account because of a situation like a past employee setting up the account and not leaving you the login details, there is a process for getting that information back. It can sometimes be a long process, so now is the perfect time to go through it! An easy way to get started with it is to search for your business in Google and click the button in your profile that says "Own this business?"
After you have access to your account, there are many items you can work on. Complete the basics, including letting clients know what your open hours are currently, then get in touch with us or check out a couple of YouTube videos to find out where you should focus next!
If you need some help or feedback as you work through some of these tips, contact us at SilverServers! Our SEO, marketing, and software development teams can provide consulting or tips on any ideas you might have for your website.
For more related content, check out the Business and Marketing section of our blog!