SilverServers November 2022 Monthly Newsletter
November 2nd 2022
---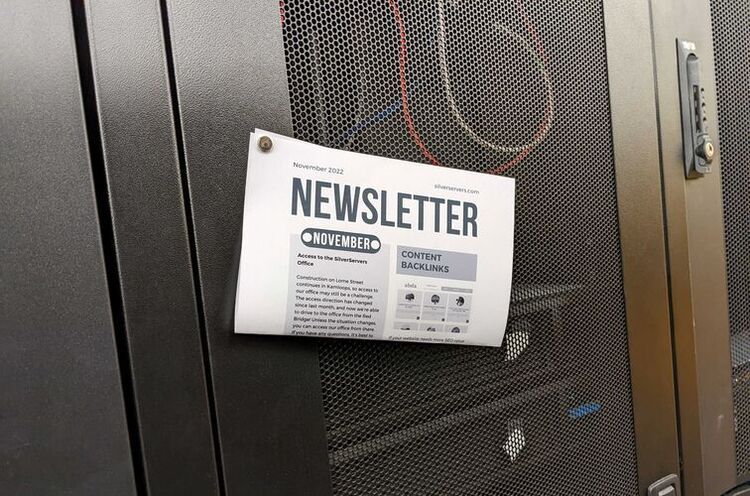 Welcome to the November Newsletter for SilverServers! Read on to get up to date with our office, our services, and what we're up to!
Access to the SilverServers Office
Construction on Lorne Street continues in Kamloops, so access to our office may still be a challenge. The access direction has changed since last month, and now we're able to drive to the office from the Red Bridge! Unless the situation changes, you can access our office from there. If you have any questions, it's best to ask the flaggers on your way in!
The First SEO Showdown
This month we did our first SEO Showdown. Our idea was fairly simple: We wanted to take the highest ranking local business websites from a handful of cities, review and score the websites, then highlight the winner with comments from each part of our team.
For our first SEO Showdown, we selected the auto repair industry, and used the keyword "auto repair shop". We searched within BC to find a list of local auto repair shops. We had a good time reviewing and discussing the websites! Check out the article in the link below to read about the showdown and the winner:
SEO Showdown: Auto Repair Shops in BC
Time Tracking Tool
Our software development team shared some exciting news this month! They have been building time tracking software for the past couple of months, and recently they entered the beta testing phase here at the office!
Some of our team have been using the beta version of the software for a couple of weeks now. Feedback has been positive and constructive. Many conversations have occurred about tweaks and adjustments to make it a great tool for any team like ours.
Content Backlinks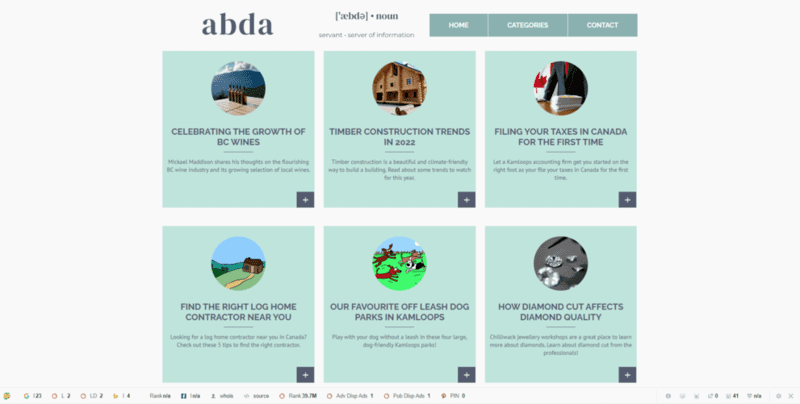 If your website needs more SEO value funnelled to it, but you're not comfortable letting someone else write the necessary content, then you'll want to read on.
The abda.net project we announced in our September newsletter is going impressively well. Now that it's succeeding, we want to pass on the value of that project to clients who can benefit from it.
If you're not comfortable letting someone else write for your website, but you want your website to have some value for keywords, topics, and services that you don't have time to write about, then reach out to our team today. We may be able to write an article or two for our site about topics of interest to you. Then, we'll intelligently backlink our article(s) to your website - similar to a sponsored ad.
Note that backlinks from quality content are not as valuable as quality content posted directly to your own website. However, we believe this option will help clients that struggle to add content directly to their website. It's much better than entirely missing opportunities for giving your website some value.
Where Does SEO Fit?
In the past month, we found an article written by the BDC (Business Development Bank of Canada) about conducting a website analysis. The article is a well-written explanation of how to analyze your website's SEO. What we wanted to highlight was the graphic they created for the article. Check it out below: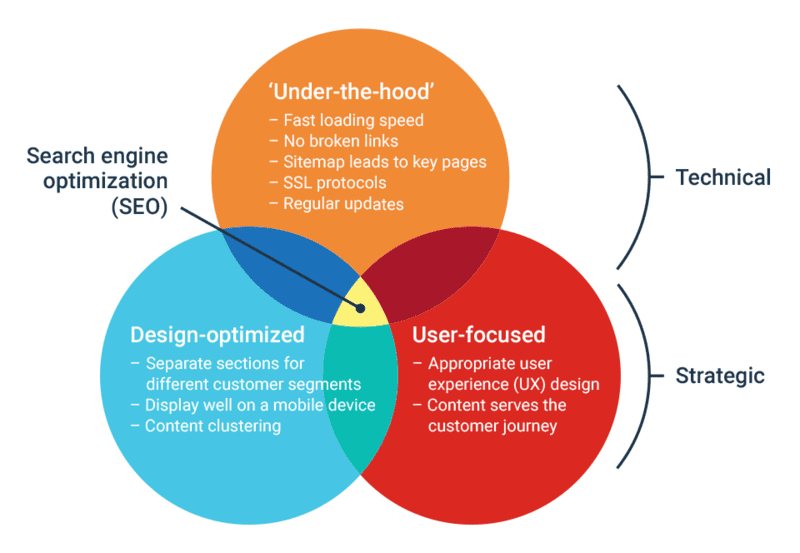 What we love about this image is how well it highlights the role of SEO in website design. SEO isn't an additional area of the website to worry about, it's the intersection of good technical and strategic design principles. Good SEO is typically the result of following best practices in quality website design and strategy.
Read the the full BDC article here.
Email Updates
Our Zimbra servers were updated in the past month to new operating systems and new hardware. This means increased security and performance for our clients!
A reminder that scam emails always have a chance of getting through any filtering software. Please contact us (if we're your email provider) if you're not sure about an email you have received.
Thanks for checking out this month's newsletter! Let us know if there's anything in particular you'd like to hear more about from us each month.
---
Find our past Newsletters in the SilverServers News section of our blog!