Magic Mist Ceiling Cleaning
December 17th 2018
---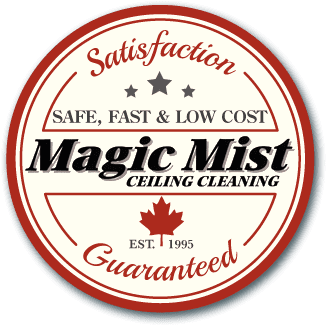 For nearly 20 years, the team at SilverServers has been developing custom website and hosting solutions for small to medium business clients in Kamloops BC and all over the world. With our office in Kamloops, servers in Coquitlam and Kamloops, and an innovative team of web developers, graphic designers and content writers, we have your company's website needs covered. We are very happy to highlight Magic Mist Ceiling Cleaning, a long-term client of SilverServers that serves residential and commercial customers throughout the Lower Mainland of BC.
Magic Mist Ceiling Cleaning achieves amazing results by using a unique ceiling cleaning process that is safe for people and pets, hypo-allergenic, food safe, and biodegradable! Their water-based, enzyme cleaning solution removes dust, cooking grease, nicotine stains, along with the pathogenic bacteria and dust mites that hang out on such dirty surfaces.
The Magic Mist system not only brightens, sanitizes and deodorizes most ceiling surfaces, but it also makes minimal mess and provides a cost-effective alternative to repainting or replacing tiles. You can check out their video to find out how their magical ceiling cleaning process takes place right in front of your eyes!
The original owner of Magic Mist Ceiling Cleaning was a client of SilverServers for many years. Shortly after having the site redesigned by our graphic design partner agency, SIXTY84 Designs, Magic Mist Ceiling Cleaning changed hands. Jody, the new owner kept the new design and signed on with the SilverServers Grassroots program.
Magic Mist Ceiling Cleaning Meets Grassroots
Under the Grassroots program, our SEO (search engine optimization) experts keep up-to-date on how search engines read and interpret data on websites, and then we apply that knowledge by writing code and text content in a way that both readers and search engines understand. Therefore, we re-coded Magic Mist Ceiling Cleaning's existing design into a lightweight, mobile friendly, responsive, and fast loading website, installed our Paradigm CMS, then re-launched the site in April 2017.
The Magic Mist website had some ranking in search results at launch time, but it wasn't showing up significantly yet in searches for ceiling cleaning. SilverServers optimized every page on the site for SEO and did regular, small reviews and updates. After a few months we created and started using the Off The Wall blog page. Once we started using the blog, Magic Mist's rankings quickly increased. Now, they rank 1st or within the top 3 for almost every search about ceiling cleaning in most areas of the lower mainland!
Something unique we did for this site was the design: Karri-Ann of Sixty84 Design, who had created the catchy logo for the previous owner of Magic Mist, adapted the logo to create the badges (free estimates, cleaning, etc.) that are in the footer on each page of the website. She went the extra mile without any of it being requested and it turned out looking great! If you would like to learn more about turning your business website into a 24/7 marketing tool optimized for visitors and search engines, please Contact Us at SilverServers to discuss your options.