When the team from SilverServers meets with Kamloops Website owners we are often meeting with people that have heard all of the buzzwords like SEO, Mobile Websites, Responsive Design etc. but may not understand what these mean when applied to their specific business website. If this applies to you, don't worry, the SilverServers website expert team is here to help you make sense of it.
One of the important components of SEO is the technical quality of your website. In our experience most
website design
ers and business owners are more concerned with the way a website looks than the technical aspects of how it does it's job. In general this is a good thing so long as the website designer is backed up by expert website developers skilled in SEO.
Today, just like any website owner should, our team decided to do some comparisons on how our website stacks up to our competitors from a technical perspective. To do this we enlisted some online tools such as GTMetrix, SEO Toolbox and of course, Google's PageSpeed Insights tool.
First up was the GTMetrix tool. You can check your website using this by visiting:
https://gtmetrix.com
We were able to do a side-by-side comparison of 3 of our locally competitors.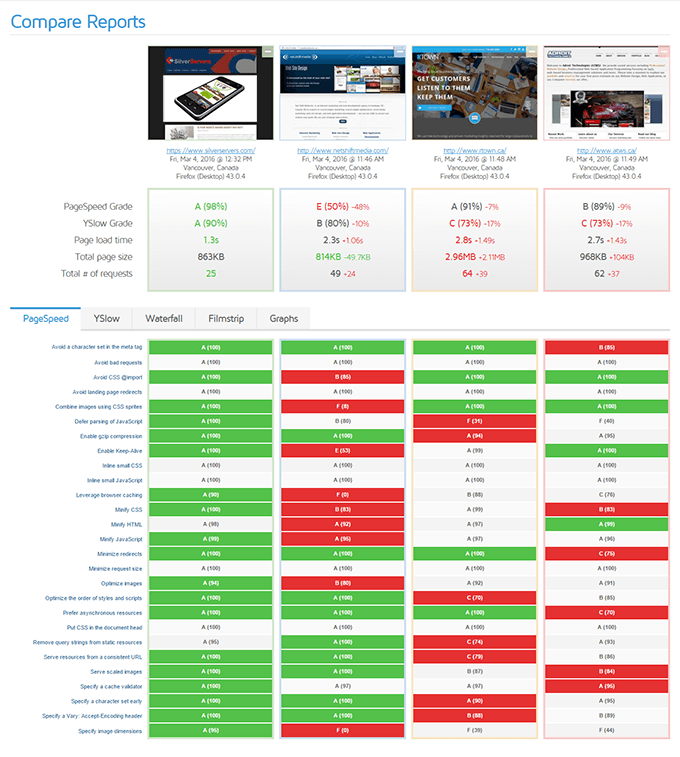 As you can see here, www.SilverServers.com ranks in at an A on both of their performance scores clearly coming out ahead of our competitors websites in almost every metric. When we look at the specific breakdown of the YSlow tab (below) we notice there are a couple of things where we scored very low. So, even though we're at the top of the charts in this comparison, we now have a few changes we can make to rank even higher.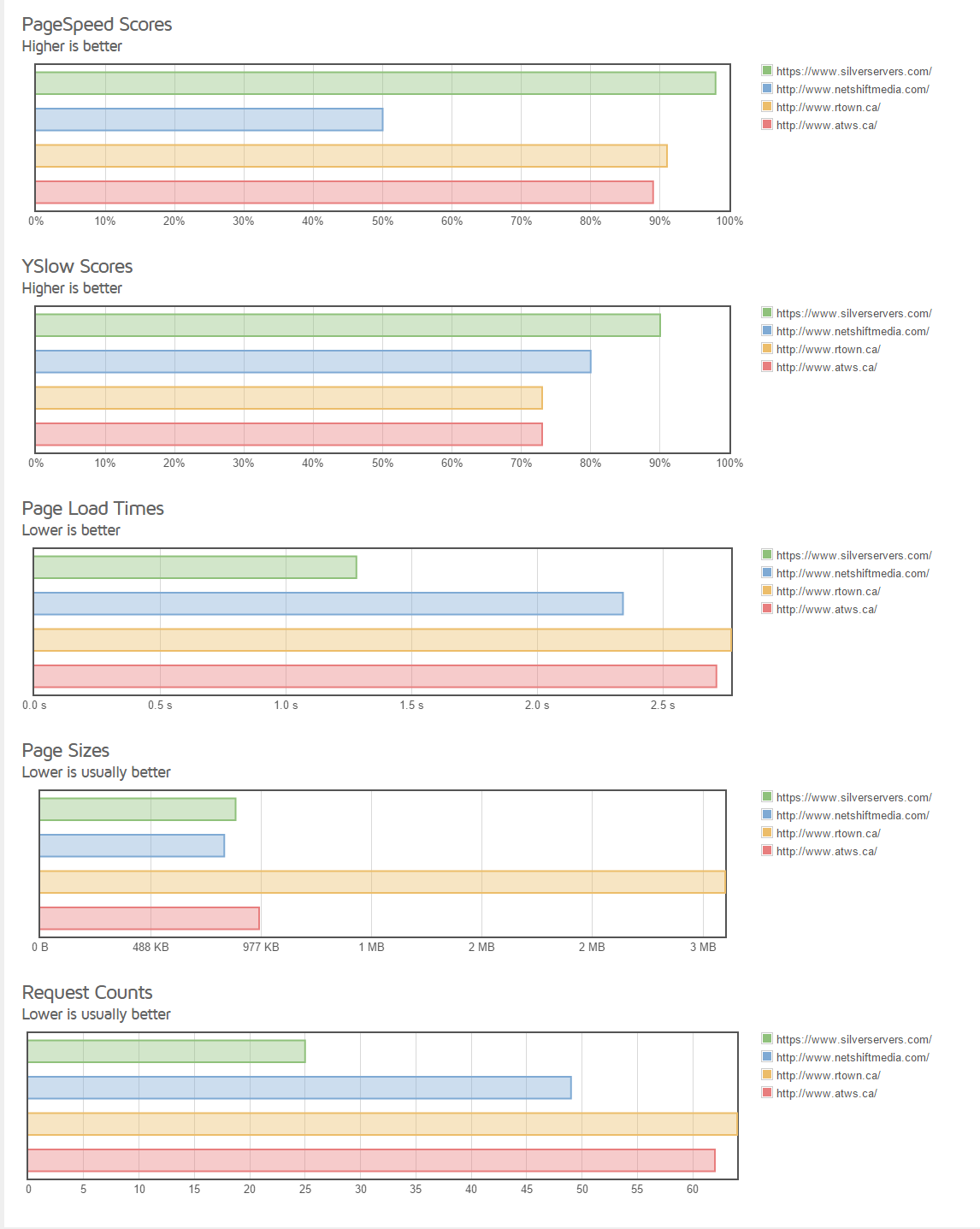 Of course, any one performance testing tool may have it's own bias so we like to use other tools as well. One of our favourites is from the powerful search engine giant Google themselves. You can try out PageSpeed Insights by visiting:
https://developers.google.com/speed/pagespeed/insights/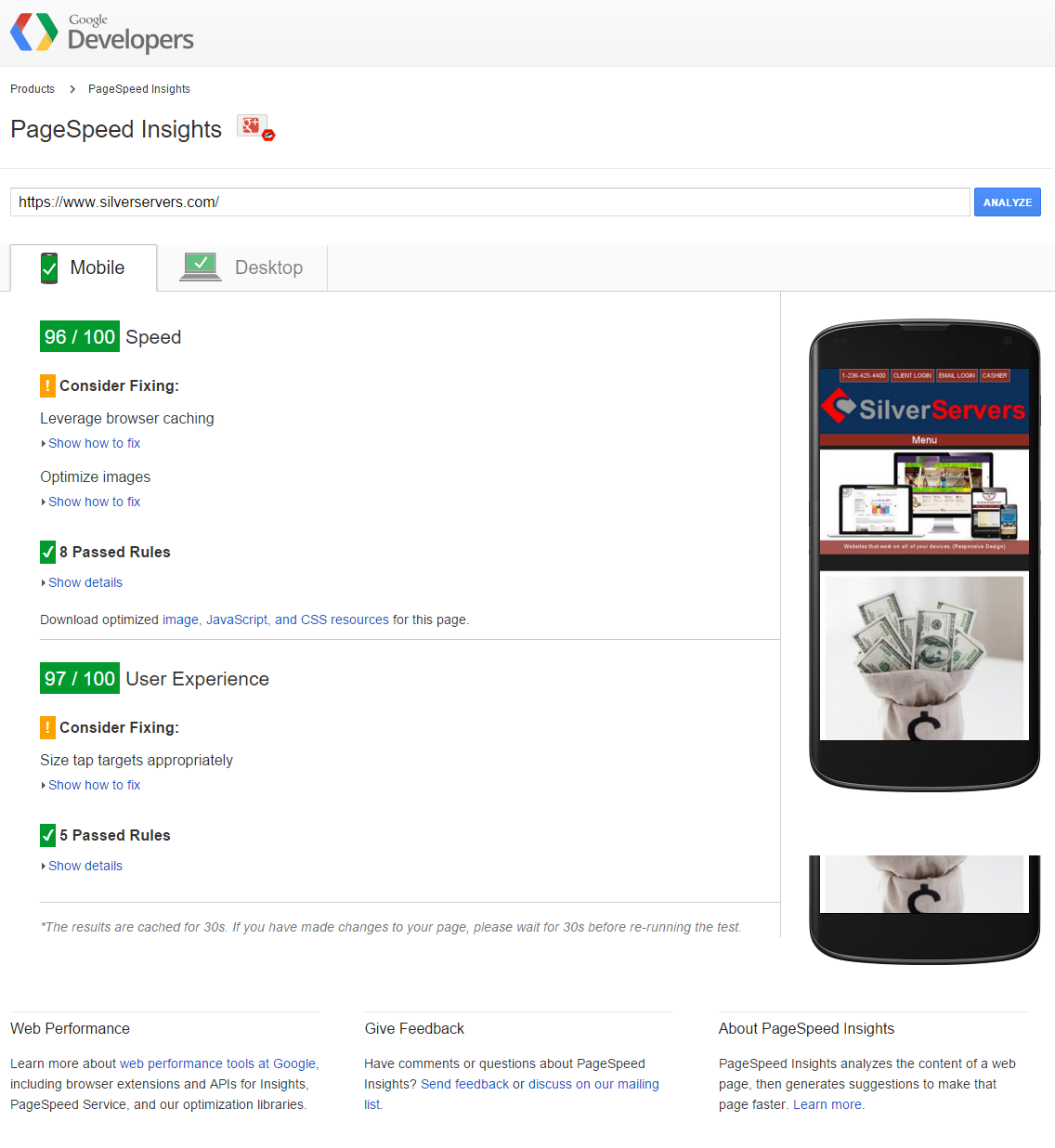 In general our goal is to be in the 90-100 range on any of these tests for both Mobile and Desktop. As you can see our website scores highly here but there are still a few suggestions that would bring our score up a bit higher yet.
The third test is one we like to use as a starting point for our Grassroots SEO clients. It's a simpler test that covers most of the basic elements as well as enough advanced SEO suggestions to. For this test we believe that a new website should be in the 80-90 range at launch. In our results here you can see we're up In the short version below you can see we rank in at 93 which we're very happy with.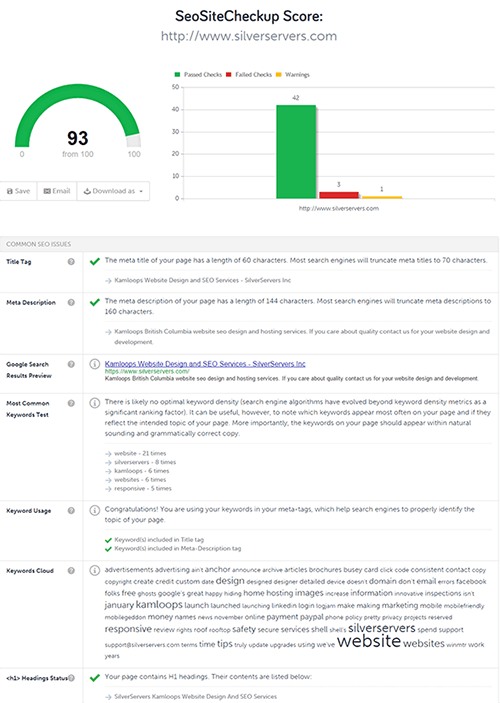 So finally, why should a website owner care if they get a good score or not? The answer is simple. Search engines care about what their visitors experiences will be like. Search engines basically run these kinds of tests on your website all the time, without you even knowing, and use the information they find to help them decide if they should send visitors to your website. If someone else has a website that's equivalent to yours in design and content, but they have better quality technical rank, chances are Google is going to nudge the better quality site higher up in the ranking system over time.
Now that you've had a look at this I hope you've also taken some time to check your website out with GTMetrix and Google PageSpeed Insight. If you're hitting in the high 80's and into the 90's across the board you're on the right track. If you're not where you'd like to be and you need some help figuring out where to go next you might want to give us a call and ask about our Grassroots SEO program.