The Power of Blogging: A Case Study
September 24th 2021
---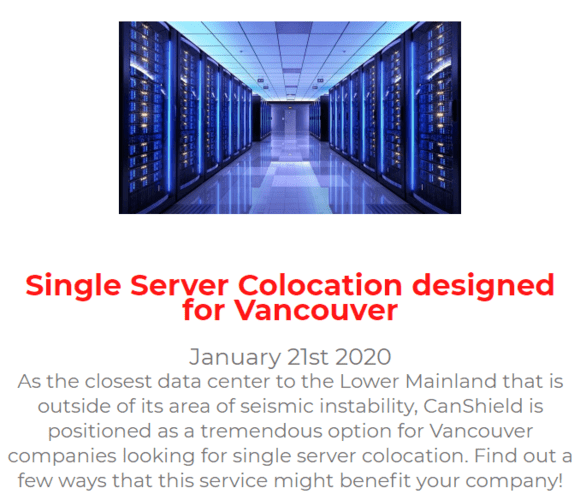 Blogging has power. It drives traffic to your website, helps you establish your expertise and boosts business. SilverServers provides content writing services in Kamloops and beyond. We are strong proponents of quality site content and regular blogging. You don't have to take our word for it, though. Today let's look at a case study of a client's rankings in which blogging has had a powerful effect on its areas of focus.
Client: CanShield Solutions
A Kamloops-based business providing secure, reliable data centre services.
How Did SilverServers Help?
At the end of 2019, we met with CanShield and they expressed interest in ranking in search engines for searches about Vancouver. They wanted to be recognized as an alternative option for Vancouver businesses who want data stored outside of the lower mainland – an earthquake-prone location. We found a couple of keywords that people in Vancouver seemed to be using in relation to the services CanShield offers, and wrote an article tailored to that keyword – "single server colocation Vancouver."
Fast forward to 2021. When we researched the "single server colocation" keyword, we discovered that Canshield's article ranks first in Vancouver. In Kamloops? They're still in the top 3, but they're not first, and their colocation page isn't what ranks. CanShield is in Kamloops. Most of their website focuses on Kamloops. They don't have a lot of local competition in Kamloops, so it's not as difficult to rank well there as it is for them to rank in Vancouver. They have strong competition in Vancouver, however, and with a single blog post, tailored to a specific location+keyword combo, they were able to rank well in Vancouver and hold that high ranking for an extended period.
Because of that initial blog post, CanShield now ranks for a few other keywords in Vancouver as well, because Google now knows that CanShield wants to serve Vancouver clients. The blog may have been the only logical place to make this laser-focused article possible – and it produced results.
What's the Best Way to Increase Your Website's Authority?
Write blog posts regularly about the topics you want to rank for. Do you want to have a geographical focus in a distant city like CanShield? Then write articles that mention those areas and the benefits your business will give to people from those areas. Have multiple areas in mind? Then take that opportunity to write about each of the areas. Specifically tailoring your articles helps you reach the clients you want to reach, and as long as the content you are providing them is engaging and informative, they'll keep coming back for more. And in the meantime, Google will start to recognize where you want to rank and they'll begin to work for you, putting your site right up high in the areas you want it to be.
Blogging is a powerful tool. As it happened with CanShield, blogging has the potential to help a company go from invisible to high-ranking when posts are strategically tailored to help the company rank. If you need some help reviewing your data in order to select the right topic for your next blog post, contact us at SilverServers. Or, if you already know your topic but you need someone to write it well, check out our content writing services.
For more related content and tips, check out the Content Writing section of our blog!