How New and Updated Content Positively Affects Small Business Websites
November 16th 2023
---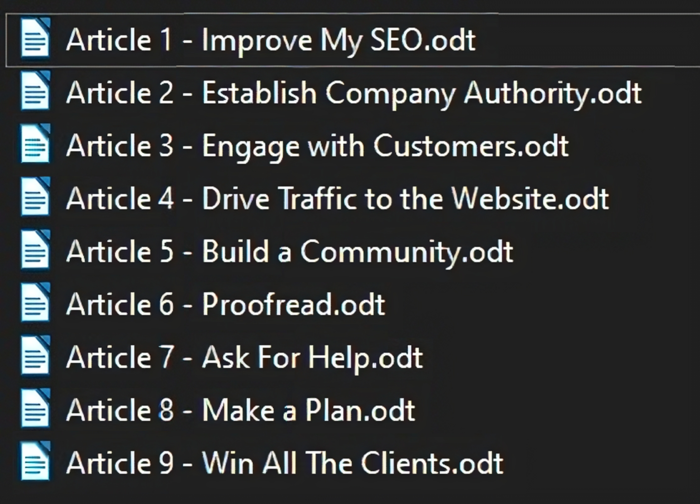 It's likely no surprise anymore that when people are looking for a business, service, or product, they seek it online. In this digital world, the online presence of a business has become just as crucial as its physical storefront. For small businesses especially, the digital realm offers a vast platform to gain visibility, attract customers, and establish a brand presence. One of the most effective ways to achieve this is through regular content updates. In this article, our team at SilverServers will share the power of content and its impact on business growth. Let's consider why consistent content is a game-changer for small businesses.
1. Search Engine Optimization (SEO)
Every business wants to be on the first page of search engine results, and SEO is the tool that makes this possible. But what role does content play in SEO? Search engines, like Google, prioritize websites that are updated frequently with relevant content. By researching and integrating targeted keywords - such as the direct name of a service (ex. "content writing services kamloops") or questions about those services (ex. "why is adding new content to a website important?") - businesses can enhance their visibility for specific search queries. SilverServers is a team of SEO specialists who not only offer content writing but ensure that the content is optimized for search engines, making your business more discoverable to potential customers.
2. Establishing Authority
In a sea of competitors, how does one stand out? The answer lies in establishing authority. What is authority? It means peers, competitors, and the general community consider you and your business to go-to resource for knowledge and expertise in your industry and location. Having that authority offline is powerful, but having that authority online as well expands your reach even further.
When a business consistently provides informative and valuable content, it positions itself as an industry expert. Customers are more likely to trust a brand that showcases knowledge and expertise in its domain. For instance, a series of well-researched articles on the latest industry trends can set a business apart from its competitors. Over time, this trust translates into customer loyalty and increased sales.
Many business owners are concerned that they should focus more on word-of-mouth instead of website content and online authority. We agree that word-of-mouth marketing is ideal, but we encourage business owners to consider the positive effects of strong online authority on their word-of-mouth marketing. Online authority will help:
Build community, which may increase the amount of conversations about your business (which we'll discuss more in point #5); and
Make it more likely that your services, expertise, or brand are what people talk about.
If your business relies on word-of-mouth marketing, then we recommend establishing yourself as an online authority with regular, high-quality website content. Valuable website content is a strong foundation on which to build word-of-mouth marketing.
3. Engaging with Customers
Beyond just selling products or services, businesses should aim to build relationships with their customers. Regular content updates offer an avenue for this engagement. Whether it's addressing common customer queries, sharing company news, or providing industry insights, content serves as a bridge between businesses and their audience. It's not just about broadcasting information; it's about starting conversations. In this way, businesses can begin to create an avenue for gaining invaluable feedback, understanding customer needs, and fostering a sense of community.
Does your business or management style function more effectively on social media than on a website? Website content is still important. Clients and potential clients are more likely to read long-form content on your website than they are on social media. Write long-form content on your website, then post a link to it on your social media feed with a short summary. The social media post will provide a place for comments and discussion while the website serves as a place for visitors to read.
Does social media for your business sound daunting? Ask about our social media management services.
4. Driving Traffic
A website is a business's digital storefront. But what good is a storefront if there are no visitors? Fresh, engaging, researched content on relevant topics can act as a magnet. When it's designed around keywords and topics that people are searching for, it pulls in visitors both old and new. When paired with strategic social media sharing, the reach of this content is amplified. For instance, a well-written article can be shared across various platforms, leading readers back to the website. And if you want to re-share the article again 3 years later, you're free to do that and gain traffic again! This not only increases website traffic but also boosts the chances of conversions, be it in the form of inquiries, sign-ups, or sales (consider the math in this article).
5. Building a Community
Every business dreams of having a loyal customer base, and content paves the way for this. By creating content, sharing it, then encouraging readers to comment, share, and engage with it, businesses can foster a sense of community. Over time, this community becomes a business's most significant asset. They are not just customers; they are brand ambassadors, spreading the word about the business and perhaps sharing the website's articles or services to answer the questions their friends and associates ask. This organic word-of-mouth marketing is invaluable and stems from consistent, quality content on a business website.
Conclusion
Regular content updates are not just a digital marketing strategy; they are a powerful tool for business growth. From enhancing online visibility to building lasting customer relationships, the benefits of content are diverse. Small businesses, in their journey to carve a niche for themselves, must harness the power of content. For those looking for expert guidance in this domain, our team at SilverServers, with our content writing services in Canada, is the perfect partner to elevate your content game.
Explore our Content Writing Services
---
For related content, visit the Content Writing Tips section of our blog!
This article receives updates from time-to-time with more reasons. Check back for more updates! Last updated: 16 November 2023