Single Server Colocation Designed For Vancouver
November 4th 2022
---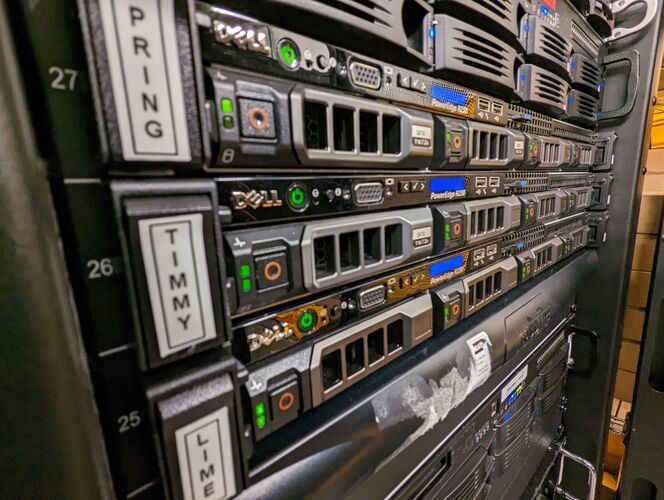 SilverServers, at the Kamloops Data Centre, provides single server colocation services and colocation rack services to clients in British Columbia's largest city: Vancouver! Our 10,500 square foot facility, situated in Kamloops, is well established as a colocation facility at the hub of BC's fibre highway. In this article we'll look at a few reasons for using our services and why our location is the best option for businesses from the Lower Mainland!
Single server colocation services are the use of colocation hosting on one physical server on the same rack as servers that belong to other clients. It's like paying for one seat on a bus instead of paying for the whole bus in order to transport one person. This option is a cheaper alternative to having your own rack while still obtaining the power, uptime, and reliability of having your equipment in a data centre.
There are many situations where you might want to consider using single server colocation services. Let's name a few and look at why SilverServers is a great colocation option for Vancouver companies.
When You Need Reliable Uptime
Uptime, especially when provided via a data centre's colocation services, aims for 100 percent due to facility monitoring and redundant infrastructure. In addition, the cooling and environment at a data centre is controlled with redundancy built-in. Uptime lets you know how likely it is that you can leave your machine at that facility without it unexpectedly losing power.
If you have your server stored in your office, there's always a chance that the building will experience a power outage longer than your backup power supplies can last. Power outages happen all the time! If your machine needs to stay on at all times, then you want to keep it somewhere that you can be more certain that it won't lose power.
A data centre is better equipped to handle power outage situations. With automatic backup generator power systems far beyond only your typical battery powered UPS system, you can be certain that your equipment will be powered even in a long-term power outage.
If You're Unsure that your Company Will Grow
Many newer businesses are aware of their need for colocation services – especially when considering if their company will grow – but are unsure of whether or not their business will actually scale quickly enough. In those early stages of a business startup, there may not be enough financing for you to put your equipment in a full rack – or even half a rack.
Single server colocation is perfect in these situations. It will provide you all of the benefits of colocation without hurting your pocketbook.
And at the Kamloops Data Centre, since our facility is 10,500 square feet, your business can continue growing within our space without worrying about running out of room in a few years.
Backup Servers
When it comes to important data, redundancy and backups are integral. Having all of your data in one data centre – even if it is copied on more than one machine at that location – could be a problem if something happens to that facility. Although a data centre is a very secure basket, you still don't want to put all of your eggs into one basket.
There are many reasons you might want to have one server holding a redundant backup of your data in a second facility. We'll talk about one important reason in a minute. Whatever the reason though, SilverServers provides a great location for storing your single backup server. Being at the hub of British Columbia's fibre highway means that if you ever experience a need for accessing your backups, our location provides you the best accessibility possible in the province – no matter where in Vancouver your business operates.
Data Backup and Business Continuity
While there are other single server colocation services in Vancouver — approximately 21 — the Kamloops Data Centre is your best option as a data backup colocation provider. In the event of a large-scale disaster in the Vancouver area, we are the closest location to the Lower Mainland that's outside of its high seismic activity area.
As such, our location — which is a three hour drive from Vancouver — makes it the perfect choice as a high-quality security and data centre service. We are the closest and most seismically stable data centre available to businesses in the Lower Mainland. Data from the Institute of Catastrophic Loss Reduction shows that Kamloops (where the Kamloops Data Centre resides) has drastically lower seismic activity than Vancouver. Making sure your data is stored in a seismically stable location is one of the top priorities in IT architecture planning.
SilverServers has a diverse team with over 25 years of experience working in the IT industry. Our facility is a purpose built, highly secure data centre, not just a converted office or storage site. It includes rebar reinforced concrete cinder blocks, structural steel cross braces, redundant cooling and power management. Our facility is at the hub of British Columbia's fibre optic routes which span 1,400 km across the province. As such, our location makes us ideal for colocation services for Western Canada and Vancouver.
If you are looking for single server colocation services, don't hesitate to contact us to find out more about how we can help your business. It would be our pleasure to hear from you and give you a tour if you're in the area.